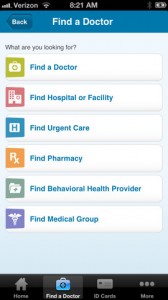 You've probably heard the saying "there's an app for that," and now there's an Anthem app for your health care.
Anthem just released their new smart phone app for all subscribers. This cutting edge technology is a great tool for you and your family to have at your fingertips.
The app has multiple useful functions. First of all, you are able to save a copy of your insurance cards. By using the app, you can walk into the doctors office and simply email a copy of the card right on site.
The app also give you the function to find a doctor, urgent care, specialist or pharmacy in network with turn-by-turn directions. To be able to find an urgent care doctor in network is an extremely valuable tool in the Indianapolispolis metropolitan area. Urgent care centers have always caused network problems for these residents, so this technology can save you and your family money by giving you the correct in network provider.
To be able to easily and quickly locate all of this information anytime, anywhere makes life simpler and more convenient