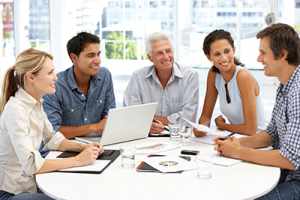 Nefouse & Associates, Inc. is proud to be one of the chosen Insurance agencies to be able to offer the IU group health plans. We are especially excited to be able to offer this solution to small companies.
Since the inception of the IU group health plans, there has not been an outreach to the small companies. This has now changed and IU would like to offer these plans to all size companies.
The IU Health group health plan is not a traditional HMO. The group plans offer a dual network, which provides access to your employees outside IU Network. These plans even offer options to members inside the IU network. This gives companies great flexibility in offering their employees a competitive priced solution.
IU is offering a full line up of plan designs. From rich benefits with 1st dollar copays to health saving accounts. They are also offering a level funded option, which looks and feels like a full insured plan, but it has the ability to give the group a refund on a good year.
If your company is over 50 employees, then the case will be underwritten. IU underwriting is very aggressive, which can lead to lower premiums. With IU owning the medical network, this helps to control medical costs which can lead to a lower costing health plan.
In the last few years, there has not been a lot of competition in the small group market. With the IU health plans, we have one option to help companies of all sizes to offer a competitive employee benefit package.
Contact us today